Summer and the ability to enjoy the great outdoors is something that many look forward to. If you have pets, they like to spend time outside too. However, along with the sunshine and fresh air comes a few unwanted summertime guests. Fleas are one of the most unwanted guests that can spoil summertime fun. People spend millions of dollars every year on products to help keep fleas off their pets, but regardless of their best efforts, sometimes they still manage to get them, and you should know what do flea eggs look like.
The problem is that when our pets get fleas, they bring them into the house. Fleas not only like to munch on our pets, they like to munch on us too. Flea bites appear as tiny little circles that are itchy and irritating. Often these tiny a bites will appear in lines of three or four bites. The most common sites are the ankles or legs. This is because fleas do not fly, but they hop. They hop from the grass, or your carpet, onto your legs and ankles. They also like to bite around the waist, armpits, breasts, groin, on the inside of the elbows, and the backs of the knees.
Some people are allergic to flea bites and have a more severe reaction such as developing hives or a rash. Some people develop blisters with white tops on them. Scratching can cause further damage to the skin. There is also the possibility of developing a bacterial infection at the site of the bite. It is always advisable to try not to scratch flea bites in order to avoid this, but this is sometimes easier said than done. One of the worst potential effects of flea bites on dogs is that they can spread disease in both humans and pets.
Flea Life Cycle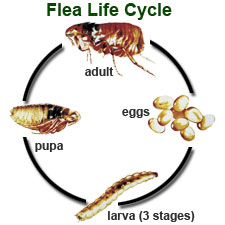 If you have flea bites, the tiny red patches will go away on their own without any treatment, and less they become infected. The flea bites will go away, but if you don't treat the source of the fleas, then you will continually have to contend with new bites. Each new bite has potential for the development of the serious complications mentioned earlier.
Fleas go through four stages of development. These are the egg, larva, pupa, and adult flea. In order to eliminate the fleas from your home altogether, you have to eliminate all four stages of fleas in development. The total lifecycle of the lifecycle from flea egg to adult can take anywhere from a couple of weeks to several months. Environmental factors such as temperature and humidity levels have an effect on how rapidly flea eggs develop into biting adult fleas.
Most Effective products against Fleas
1. Best spray to use on your pet
2. If you want to kill fleas from your carpet or similar areas, we've found that this works best:
3. If you have big infestation, you'll need best fogger available (case of 6 recommended).
This means that fleas are worse in the summer because they can rapidly develop from flea eggs to adult fleas. However, even though they develop less rapidly in the fall and winter, if you have a flea infestation in the summer and think you have eliminated it, it is possible to have a re-infestation in the middle of winter when flea eggs hatch and develop into adults. This is one of the factors that makes fleas difficult to control once you have an infestation.
Fleas bite because once the flea eggs hatch, the larva need blood meal to feed on. Before the female lays flea eggs, she bites you or your pet in order to digest the blood to provide for the larva once they hatch. Blood is necessary in order for the adult flea to produce eggs. Adult fleas prefer to lay their eggs close to their primary source of food, which means they will lay the eggs in the fur of your pet.
What do Flea Eggs Look Like?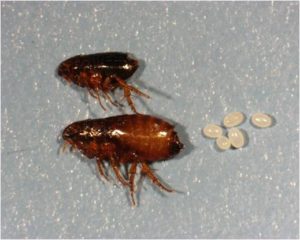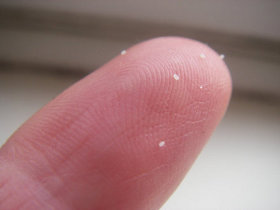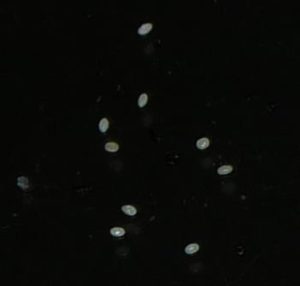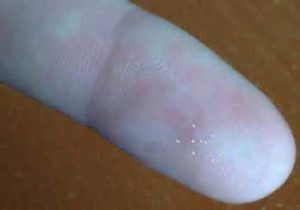 Flea eggs are difficult to see because they are smaller than a normal grain of sand. The adult flea lays them in bunches of about 20 eggs in a cluster. The adult flea is capable of laying approximately 40 flea eggs per day. If you multiply that out times the length of the infestation, this means that a single female adult flea to cause a very big problem quickly. At any given time, approximately 50% of the flea population is in the egg stage.
Flea eggs take anywhere from two days up to two weeks to develop and hatch. They will wait to hatch until the environmental conditions are just right. In cold dry temperatures, the flea eggs will take longer to hatch. They hatch much more quickly in humid and hot weather. The problem is that even though they hatch more slowly in the winter, they still go through their lifecycle and the infestation continues. This means that as soon as the weather is more favorable, you will quickly have a condition that is out of hand.
Flea eggs look like tiny translucent grains of sand. They are so small that you probably will not see them. Your first sign of fleas will probably be flea bites on you or your pet, if you don't know how it looks, here are flea bites pictures. However, rest assured that if you see one adult flea, that flea is quickly laying as many flea eggs as possible. If you have fleas, then you have flea eggs. This makes it essential to get the problem under control as quickly as possible. And you should kill fleas in carpet ASAP.
Flea eggs will fall off of your pet and onto any surface where your pet lies or walks. This means they will get into the carpet, on furniture, into bedding, and throughout all areas of the house. The surface of your pet's skin is an ideal environment for hatching, but this doesn't mean that they will not hatch off of your pet if the right conditions are present.
Once the eggs hatch they are born as blind larva that will avoid the light. They prefer dark places. When they emerge, they begin feasting on the digested blood, which appears as flea dirt. They can also lead other organic debris that they find in the environment so they don't need a diet made up of entirely digested blood, but this is their preferred meal. Flea larva are about ¼ inch long and white. They make up approximately 35% of the total flea population in any given area.
About 5 to 20 days after hatching, if they have the right environment, the larva will spin a pupa, which is similar to a cocoon. The cocoon is very hard and has a sticky outer coating that allows them to hide deep in carpets and fabrics. They cannot be removed by light vacuuming or sweeping. The cocoon can protect the developing flea from any chemicals that you spray. If there are fleas that have reached the pupal stage, the infestation can be difficult to get rid of because these pupas can survive the chemical onslaught.
It is possible to have fleas in the pupa stage in as little as a week after the first flea makes her way onto your pet or into your house. This is why it is essential to engage in preventative measures and to make certain to get an infestation under control before it has the chance to develop into a pupa. Fleas will not emerge from this stage until they sense body heat in the presence of carbon dioxide, indicating that a potential host is nearby. When your pet walks by, the flea will emerge from its cocoon to begin feeding.
Once the pupa has located a potential host, it will emerge and begin feeding from the host within a few hours. It will breed and begin laying flea eggs within a few days. They cannot lay flea eggs until they obtain a meal of blood. At any given time, there are about 10% of the flea population in the pupa stage, and 5% are adults. Knowledge about the flea lifecycle from the flea eggs the adult is one of the most important factors in being able to eliminate them. Now, let's examine a few ways that you can do this.
How to Get Rid of Flea Eggs
If you have fleas in your house, the first line of defense is to make sure to get your pets treated by a vet. This is not only for their safety; this is to eliminate fleas at their source. If you do not get rid of the fleas from your pets, you will never be able to stop the cycle and you will continually have a new batch of baby fleas. Not only that, if the fleas get bad enough, your pet can become anemic and potentially die from too many fleas. Fleas transmit parasites, which can also be harmful to your pet. If you have fleas, it is essential that you have them treated professionally by a veterinarian as quickly as possible. You also need to take measures to prevent them from reappearing on your pets.
You must eliminate fleas in all stages of the flea lifecycle in order to get rid of them permanently. Vacuuming regularly for several weeks is essential for eliminating eggs, larva, and adults. Washing bedding and clothing in hot soapy water can help to eliminate all four lifecycles of the flea. All fabric must be washed regularly in order to keep on top of the infestation. It is possible to use a humidifier to encourage the fleas to hatch and then treat them with a fogger.
Sprays and Foggers
There are a number of sprays and foggers available on the market that you can use yourself. Usually you deploy the sprayer fogger and then you have to leave the house for several hours. Products available for home use are often not as effective as the treatments that are used by professionals. If you try one of the commercially available foggers and it does not work, you will have to hire a professional to come and treat your home.
Regardless of whether you choose to use a do-it-yourself home product, or hire a professional to treat your flea infestation, it will usually take several repeat applications in order to get the problem under control. This is because the flea eggs are so tiny that they are difficult to remove with normal cleaning practices.
Hiring A Professional
You can spray, or have a professional come and treat your home, and it may seem like the fleas are gone. Then in a few days, they will be back. This is not an indication that the flea treatment did not work, what it means is that flea eggs have hatched and begun to start the cycle all over again. Eliminating fleas takes vigilance and patience, but if you keep after it, eventually you will achieve your goal.
The advantage of the do-it-yourself products that are available is that they are less expensive than hiring a professional. The disadvantage is that they are not as effective and it can take you longer to get the problem under control. This means that you will have to do more re-applications than a professional would have to do. In the long run, it could be less expensive to hire a professional than to try the over-the-counter do-it-yourself products. The professional can usually do it in much less time than if you try to solve the problem yourself using over-the-counter products.
Eliminating Flea Eggs
Removing the flea eggs is the most critical part to gaining control of the flea situation quickly. Of course, this is difficult because they are so hard to see. They usually only make their presence known when the adult fleas begin hopping on people and biting them, or on pets, in preparation for laying more flea eggs. Some experts estimate that for every flea you see, there are about 120 flea eggs present.
Flea eggs can remain dormant for up to seven months, even in freezing temperatures, and then hatch as soon as a host becomes available. This means that once the adults have been eliminated, it is essential to make sure that any treatment protocol addresses the flea eggs. Otherwise, it is simply a matter of time before the infestation reoccurs.
As soon as your pet comes in contact with an adult female flea, she will immediately begin laying eggs. If you find the flea, even if your pet has only been outside for a few minutes, there is a good likelihood that the pet already has flea eggs hiding in their fur. They are so small that you will probably never find them, but rest assured that they are there. This means that eliminating flea eggs is a twofold process. First, the eggs have to be eliminated on your pet, and they also have to be eliminated in your house.
Just because you have eliminated the adult fleas from your pet, doesn't mean that you have eliminated the eggs. Once the eggs hatch, the larva can begin feeding on the remains of the adult fleas. They also feed on tapeworm eggs. This is how fleas transmit tapeworms to pets, and yes to humans too. An animal with a tapeworm will be more likely to attract fleas who wish to feed on the tapeworm eggs. Consulting with your veterinarian is essential if you find even a few fleas on your pet due to the presence of both flea eggs and tapeworm eggs. Tapeworm eggs enter your pet when it licks its fur and swallows them. If you do not eliminate flea eggs from your animals, then you are fighting a losing battle in your fight against eliminating fleas from your environment.
Using a flea comb can help to eliminate flea eggs from your pets. This must be done outside and it is important to treat your pet for adult fleas. If you do not, the adult fleas will just lay more eggs in the pet's fur. Flea shampoos can help to eliminate the adult fleas and the flea eggs as well.
You have to remove the flea eggs from your pets and from your home at the same time, otherwise the problem will just keep reoccurring through reinfestation. You should take all of your bedding and wash them in hot soapy water in order to get rid of flea eggs. A light vacuuming of the carpet and upholstery will not necessarily remove the flea eggs. It is recommended that you use steam cleaning with a solution specifically formulated to eliminate flea eggs as the shampoo.
Most Effective products against Fleas
1. Best spray to use on your pet
2. If you want to kill fleas from your carpet or similar areas, we've found that this works best:
3. If you have big infestation, you'll need best fogger available (case of 6 recommended).
Vacuuming also doesn't always cover all of the surface area, such as corners, and indentations from buttons. One area that needs specific attention is your pet's bedding. There are flea sprays available that can help to eliminate flea eggs in areas that you cannot reach. Many of these products are safe to use around your pet, and can be used in their bedding area to eliminate both fleas and flea eggs.
During the summer months, it is recommended that you vacuum your carpets at least every two days in order to keep the fleas away in the first place. This is especially important during the warm and damp summer seasons. Using pet flea collars has been proven to be harmful to pets, and these are no longer recommended to prevent flea infestations. If you are unsure about whether a product is safe, be sure to consult your own physician, or your pet's veterinarian.
If you fail to treat your pet and home for flea eggs, you can spend hundreds of dollars trying to get rid of the fleas only to have them return over time. The key to eliminating fleas from your life for good is to address the issue of flea eggs. Addressing the issue of flea eggs is the quickest way to achieve permanent control of flea infestations. If you have a chronic flea problem, there is hope, but only if you tackle the problem in the right way.
Fleas can be one of the most difficult pests to remove from your pets and your home. The key to keeping the problem under control is to treat early, treat the eggs, and to be persistent. Seeing one flea may not seem like a problem, but now you know that if you see one flea, you already have a major problem underway. It is always better to treat the problem when it is localized than letting it spread throughout the house. The longer you wait to treat the problem, the more difficult it is to achieve permanent results. The worst thing you can do for your pets, your family, and you is to ignore the problem because you think that it is just small. This is one problem where time is of the essence and if you ignore it, it can become a major problem quickly.